FFF- Friends For Felicity
For People with Special Needs
Goals
The Project offers programs for children with special needs and in situations of social vulnerability, and aims to contribute to the quality of life, prevent social isolation, promote coexistence and solidarity in addition to strengthening bonds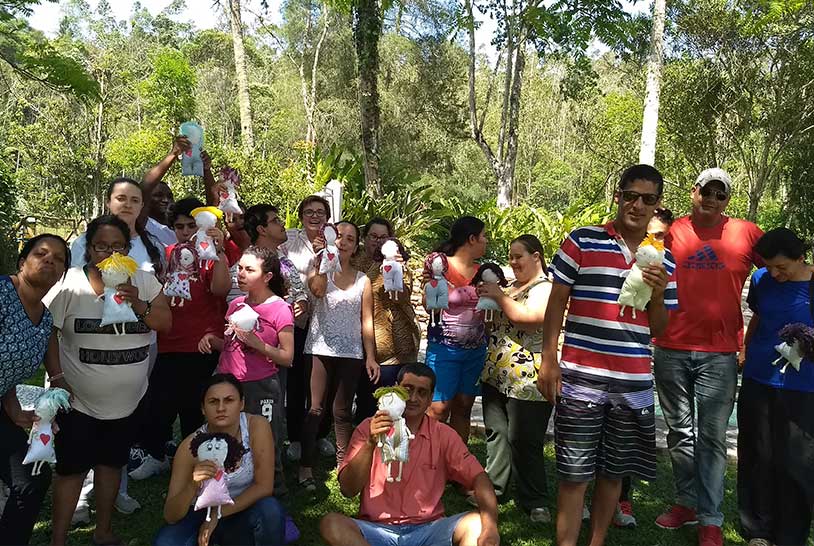 Programming
The activities include playful experiences as a way of expression, learning, sociability aiming at the development of the talents and potentials of each individual and as a group, promoting greater security and autonomy.
The activities are organized and applied by the Social Assistant, Guita Rabinovici, with the collaboration of Mara Herbst Kahan, art therapist, and are accompanied by a coordinator and an employee of CCHR - Center for Qualification and Rehabilitation Dra. Cibele Pereira Soares - belonging to the Secretariat of Social Promotion of São Lourenço da Serra.
Frequency
The project covers the months from February to December, with holidays in January and July, at the Felicity Camp twice a month, on Thursdays, from 1:30 pm to 4:00 pm.
The Felicity Project purchased 45 acres of land located 55 minutes from S. Paulo. The camp is located in S. Lourenço da Serra also called "the city of nature" due to its vast forests and large amounts of mineral waters.
Here, every child can participate in any activity since everything is planned and built considering their handicaps.
Some of the highlights of the camp are:
A "train" which are really wooden carriages pulled by a "locomotive" which transports the children from our buses when they arrive at the gate into the main building and also takes them all over the camp grounds since some tire very easily.
Big wooden installations in the playground in order to make it safer to play.
The native forest which occupies 60.000 square meters has paths for those who can walk to see unbelievable scenes of nature including the source of a natural spring.
We have an Ecologic Center where the children see a water wheel, solar heating, aeolic energy and recycling of rain water.
A small zoo with horses, rabbits, birds, etc.
Pony and carriage rides.
Pedal boats to ride on one of five lakes.
Basketball, tennis and soccer courts.
This is a source of renewal that provides hope, stamina and joy and leaves remarkable memories.